Putting Her First
When Gil Braun opened the first Braun's Fashions in Minneapolis, Minn., in 1956, he opened it with "her" in mind: local women who were full of life and wisdom, confident in their beliefs and in search of styles that made them feel fabulous at a price they would love.
That spirit continued when Braun's Fashions opened its first stores under the Christopher & Banks banner in 2000. The same year, the company introduced CJ Banks, opening 20 stores designed to meet the need for sizes 14-24 in the underserved women's apparel market.
Today, Christopher & Banks operates about 500 stores nationally, and still focuses on putting "her" first, providing our customers with style, value and service that help her look fabulous and feel amazing, every day and for life's special moments. Missy, women's and petite sizes are available in stores and online for our customers' convenience.
Social Responsibility
At Christopher & Banks, we embrace ethical business practices and acknowledge our responsibility to people and the planet. We have developed core principles, which outline our ethical values and our expectations of Associates, as well as a Code of Conduct. For manufacturers, we have a process for qualifying or auditing to assess whether they meet our expectations with respect to:
labor standards
pay and benefits
working conditions
other important standards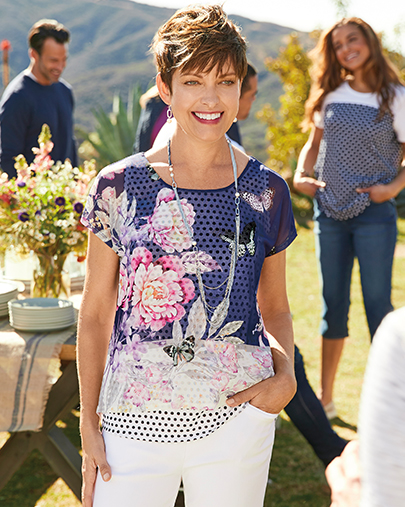 At Christopher & Banks, We Know Community is More Than a Zip Code

It's the people and places we're proud to call our own. That's why we're committed to inspiring change and uplifting the communities where we work and live.
We witness our customers' and associates' spirit of giving every day. That spirit inspires us to join you in making a difference, one zip code at a time-from local MS walks and in-store donations to partnerships with national groups searching for cures.
Learn More About The Causes Close To Our Hearts: